LWPP New Documentary "War on Memory" will be screened at the the Swedish Institute Alexandria's Cultural Heritage Conference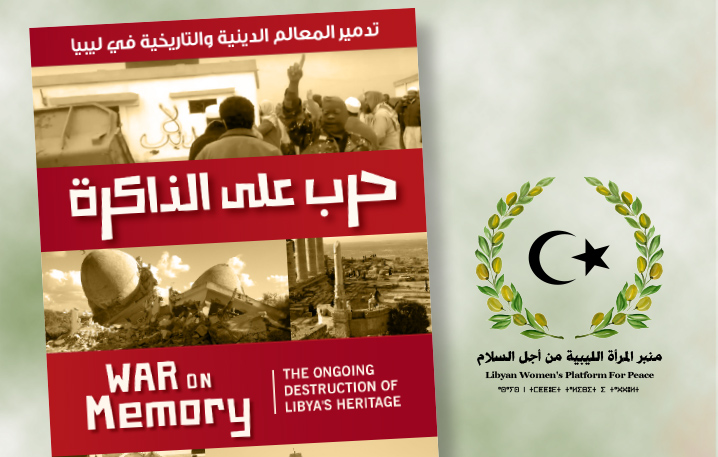 The Libyan Women's Platform For Peace (LWPP) will present the documentary "War on Memory: the Ongoing Destruction of Libya's Heritage" in the upcoming "The Role of Media in Protection of Cultural Heritage" Conference, held by the Swedish Institute Alexandria in cooperation with the "Welad El-Balad".
The documentary film "War on Memory" illustrates the waves of aggression Libya is facing against its spiritual and historical sites. Attacks which, unfortunately, are committed partially by some of its own citizens who have been influenced by distorted ideologies. The film is produced by LWPP and filmed by Libyan journalist Khadija ElOmami.
LWPP Co-founder & CEO, Zahra' Langhi, said: "One of the lethal weapons used to annihilate nations and states, is deforming consciousness, dissolving collective memory, dismantling the bonds of collective identity, destroying symbols that express the character of the nation, and severing the bonds between contemporary generations and their forefathers through the ages."
Langhi added: "This is achieved by destroying the national and religious heritage that contributes to the revival of memory, the strengthening of identity, the embodiment of symbols, and the continuity of generations." She described the documentary as "a wake up call."
The conference will be held from March 5-7 at the Swedish Institute Alexandria. Keynote speech will be given by Dr. Frans Demari, programme manager at the International Council of Museums.
The Swedish institute will open its doors for the public on the evening of the 5th at 6:30 PM to attend the opening ceremony which includes a public debate on the current status of heritage conservation and its importance for the future with a focus on the role of media.
Participants in the debate will be Albert Shafiq, director of the CBC channels, Jommana Ghonaimat, editor-in-chief of AlGhad (Tomorrow) Newspaper in Jordan; Dr. Cheghamos, a Syrian archaeologist and architect who specializes in the heritage of the Near East; Ahmed al-Shuki, head of The National Library and Archives of Egypt, and Ahmad Maslamani, writer and TV presenter from Egypt. The debate will be moderated by the journalist Dina Abdel Karim.