LWPP Highlights the Role of Women in Mediation and Reconciliation in Libya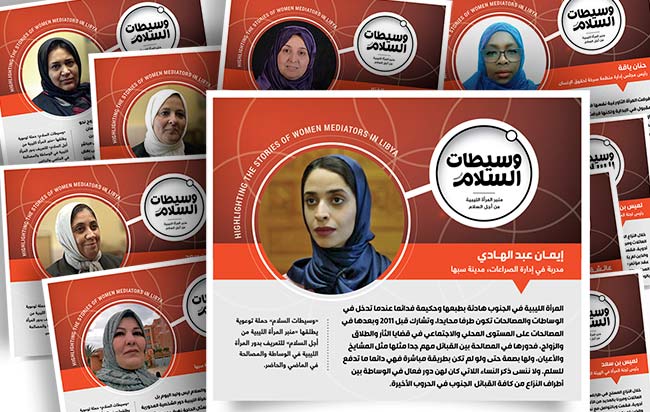 The Libyan Women's Platform for Peace (LWPP) launched an awareness campaign to underscore the role of women in local and national mediation and reconciliation in Libya in the past and present. Titled "Women Peace Mediators," the campaign's objective is to introduce and boost actual examples of active participation by women in conciliation and successful mediation which is deeply rooted in Libyan heritage and customs.
"The campaign of women peace mediators, which covers all Libyan cities, is primarily aimed at highlighting the role of Libyan women in mediation and reconciliation and their efforts to build peace in Libya," said Zahra Langhi, LWPP co-founder and CEO. "It also aims to describe how such processes of mediation are conducted, including the way agreements are reached, the nature of the agreement, the specifics of women's interventions, and the obstacles and challenges they face."
Langhi said she expects that "the campaign to document the stories of women peace mediators and their experiences in reconciliation will contribute to the formation of a future regional network of women peace mediators."
The campaign includes five radio programs, video interviews, and social media messages, based on women mediator's own stories and experiences. The five episodes of the live radio talk program "Women Peace Mediators" are broadcast live via local radio in Benghazi and over social media platforms. Ten female mediators from Benghazi, Zwara, Sabha, El Baida, Taourgha, Tripoli, Zawia and Janzour are participating. The video interviews include 13 women mediators, while about 40 posters introduce and give a brief overview of the perspective of the women mediators on women's role in reconciliation.
The media action aims at sensitizing the population about the meaningful engagement of women in reconciliation and mediation and creating more ownership and support for it, as well as inviting as many Libyans as possible, in particular youth and women, to make their voices heard. It also aims at offering a more positive image of Libyan women in the media, promoting women as champions of peace, and promoting women empowerment.
Reacting to the ongoing campaign, Asma Sereibah, vice president of The National Forces Alliance, said that "this campaign contributes to enhancing the confidence of members of society in women's capabilities and gives impetus to the rest of women to be in the forefront of the efforts geared towards peace-building in Libya."
Amal al-Malati, a member of the National Reconciliation Advisory Committee, said she sees "a very positive response and interaction with the campaign of by men and women." adding that "the most important feature of the awareness campaign is that it is inclusive in that it covers the efforts of female mediators from all over Libya." al-Malati adds: "The campaign motivates women to participate in mediation and reconciliation. It is only a beginning. We do hope it will continue and take other forms, because it will not only impact the present, but will have a positive impact on the future of Libya. Libya does need more women working for peace."
The awareness campaign is an integral part of wider project by LWPP to build a vision for sustainable peace in Libya. The LWPP, launched on 7 October 2011, is a movement of women and youth leaders aiming at freedom, equality, social justice, citizenship rights, and sustainable peacebuilding.