Zahra' Langhi at The Generation Equality Forum Launching WPS-HA Compact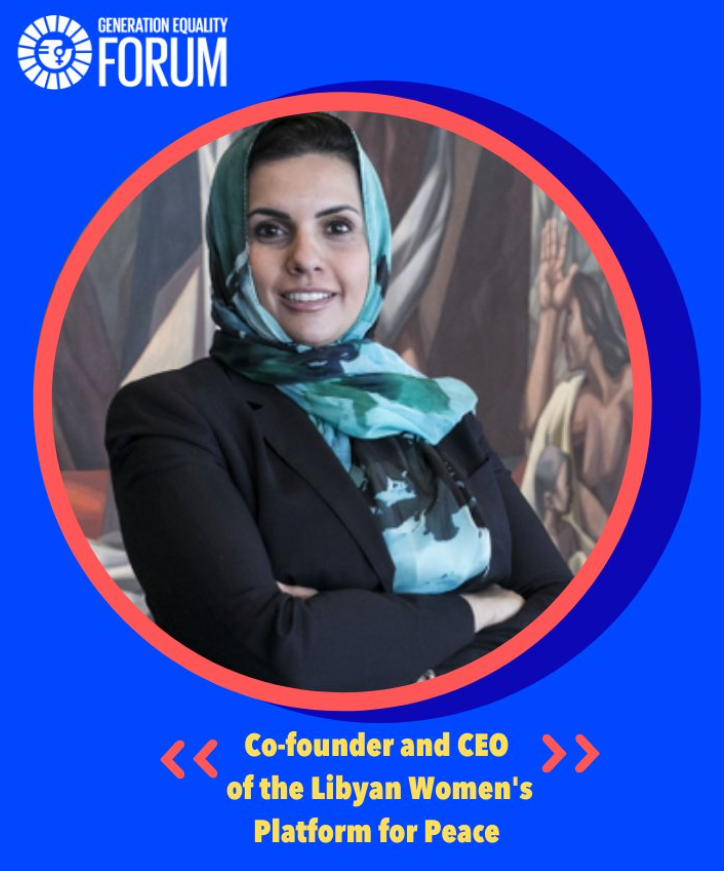 "It's a great honor to be here representing civil society at the launch of the Compact because this has been a civil society-led initiative.
Last week the Libyan Women's Platform for Peace marked the 7th anniversary of the assassination of one of our founders, Salwa Bugaighis.
Salwa's murder - carried out just as she had encouraged Libyans to "fight peacefully by using your vote" was meant to send a message to all those hopeful for a democratic Libya.
While the act did indeed presage further catastrophe for Libya, its sad lesson was wider even than that.
After seven years we still await justice for Salwa.
As women activists, we know better than ever that we cannot simply rely on duty bearers to live up to the national and international agreements, laws and precedents on women, peace and security and humanitarian action - even when they themselves have been the ones to sign up.
This has been especially clear in the Arab region.
No matter that it has been governments that agreed UNSCR 1325 and its related resolutions, in so many cases it has been civil society that has had to find the determination and commitment to ensure that these commitments are implemented on the ground.
That is why we have so valued the opportunity provided by the Women, Peace and Security and Humanitarian Action Compact, and I welcome and thank the fellow board members, catalytic members and signatories.
It has been especially important that the Compact has focused on existing commitments - because we do not lack for these. What has always been lacking is the political will to prioritise and see these commitments through, so that they become more than the subject of discussion and debate in distant cities, and they protect the rights and wellbeing of women and girls affected by conflict and humanitarian crisis.
It is a real honor for me to be here on behalf of the Karama network, to put our name to these actions.
The spirit of the Compact is that we don't reinvent the wheel. We build on what is working, recognize what is not, and seek to address those gaps, so that we don't find ourselves again looking back at Beijing, looking back at 1325, and seeing unfulfilled promise.
Within the compact's actions are concrete things that we in civil society can do to:
• Start decolonizing funding. This is absolutely vital for the organisations in our network that are led by women working on the ground and who do not have the resources and access that much larger international NGOs do.
• We are committed to broadening our coalitions, making sure that we are truly inclusive movements, recogniing the need for representative grassroots participation and youth leadership. We at Karama have been seeking to promote youth participation, representation and leadership across our network, not just to the next generation, but through our work with adolescent girls. But there is always more that we can do.
• We are also committing to ensure that the work civil society has done to promote women's leadership benefits wider efforts to increase women's participation. For a long time, women have built and led their own movements from the ground up because these have been the only to express their leadership.
• We are committing to ensure peace processes are not rigged, nor are they centered around appeasement of warlords nor around power sharing models. Rather we commit to ensure that our peace processes be centered on sharing responsibilities and on rights of people. We commit to ensure that women's participation goes beyond inclusion. We commit to establish and maintain qualities of accountability, legitimacy, transparency in these processes and protect them from the influence of political money.
This work has been about partnership, and a crucial element of that is holding each other accountable for the actions we commit to.
For the last seven years, it has been a solemn duty for the LWPP and for the wider Karama networks to keep seeking justice for Salwa Bughaighis, and the many more women in Libya who suffered the same fate - Fariha el Berkawi, Intisar al Hasari, Siham Sergiwa, Hanan Al-Barasi and the women of Tarhouna.
We have carried their cases to Parliaments and ministries, to the UN General Assembly, and even the UN Security Council. We have worked as civil society across borders, with academics and jurists, and across society. We have done this because even tenets of justice as fundamental as the investigation and prosecution of murder cannot be taken for granted in conflict.
We each have our responsibility to ensure that the rhetoric of women, peace and security and humanitarian action becomes reality. And we will hold each other accountable for it."