LWPP and ICJ Present Libyan Authorities with Recommendations on Accountability and Advancing Gender-Responsive Transitional Justice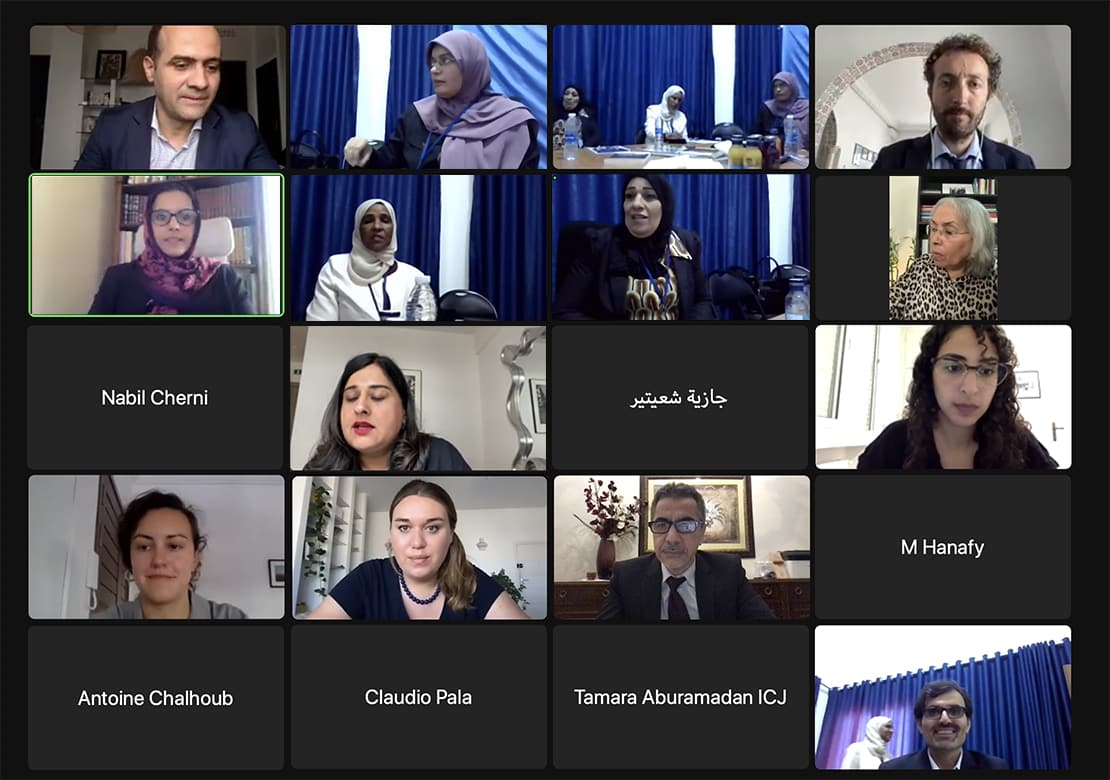 Press Release: 13 June, 2022
The Libyan Women's Platform for Peace (LWPP), in partnership with International Commission of Jurists (ICJ), presented representatives of the Libyan Ministry of Justice (MOJ) and the Supreme Judicial Council (SJC) with an overview of their current work on accountability and transitional justice and recommendations on advancing gender-responsive transitional justice and elimination of conflict-related sexual violence.
The meeting, held on Monday 13 June, was attended in person by representatives of MOJ and SJC at the UNSMIL headquarters in Tripoli and via online link by Libyan civil society activists and some members of EUBAM, UNSMIL, ICJ, and LWPP.
Libyan official participants were: Afaf alShurfi, head of the Women's Empowerment Unit at the Ministry of Justice (on behalf of Halima Ibrahim Abdurrahman, the Libyan Minister of Justice), Fariha alSherksi, member of the Supreme Judicial Council of Libya (on behalf of Muftah alQaei, the head of the Supreme Judicial Council), Omima Bawi, special adviser to the Minister of Women's Affairs.
Zahra Langhi, LWPP co-founder & CEO, stressed the need to "incorporate a gender perspective into transitional justice in Libya." She asked MOJ and SJC representatives "to deal with impunity in Libya, as exemplified by the failure to prosecute the murders of high-profile women like Salwa, Fariha, and Intisar, among many others." Langhi pointed out the importance of the meeting as it comes ahead of the International Day for the Elimination of Sexual Violence in Conflict on 19 June.
Highlighting ICJ's current work on the issues, Said Benarbia, director of the ICJ's Middle East and North Africa Program, and Vito Todeschini, legal adviser at ICJ, told Libyan authorities that to comply with international law and standards, the transitional justice process in Libya must be gender-responsive.
Benarbia said: "There is a role for the Ministry of Justice and the Supreme Judicial Council, and there is an obligation on the state with regard to investigating crimes; the absence of which leads to a sense of impunity."
Todeschini emphasized that "a gender-responsive approach must be streamlined throughout the transitional justice process," and that "women should not be seen as mere 'beneficiaries' or 'victims', but as active agents entitled to have their perspectives reflected in the transitional justice process." He added, "it is necessary for the Libyan transitional justice process to ensure accountability, truth and reparations for serious human rights violations, including sexual and gender-based (SGB) crimes committed against women."
A discussion session benefited from observations by the MOJ and SJC representatives and select civil society members and independent experts including Jazia Sheitier, Omelzz Farsi, Souad Wahidi, Suki Nagra (Director of Human Rights, TJ and Rule of Law Service, UNSMIL), and Sanna Kaskeala (Human Rights & Gender Adviser at EUBAMLibya).
LWPP has partnered with ICJ in a two-year project aimed at enhancing the capacity of Libyan lawyers, human rights defenders and civil society actors, to engage with and submit information and evidence and reform needs, including on sexual and gender-based violence, to international accountability and human rights mechanisms, and policy and decision makers, with recommendations for action.
During the meeting, LWPP, along with ICJ, reiterated the call on the HRC to ensure the extension of the UN Fact-Finding Mission (FFM) on Libya's mandate. LWPP has been a leading supporter of FFM work in documenting gender-based and conflict-related sexual violence.