17th of July, Daunting Attack on Libyan Women Politicians: Dark Mark in the History of Women's Political Participation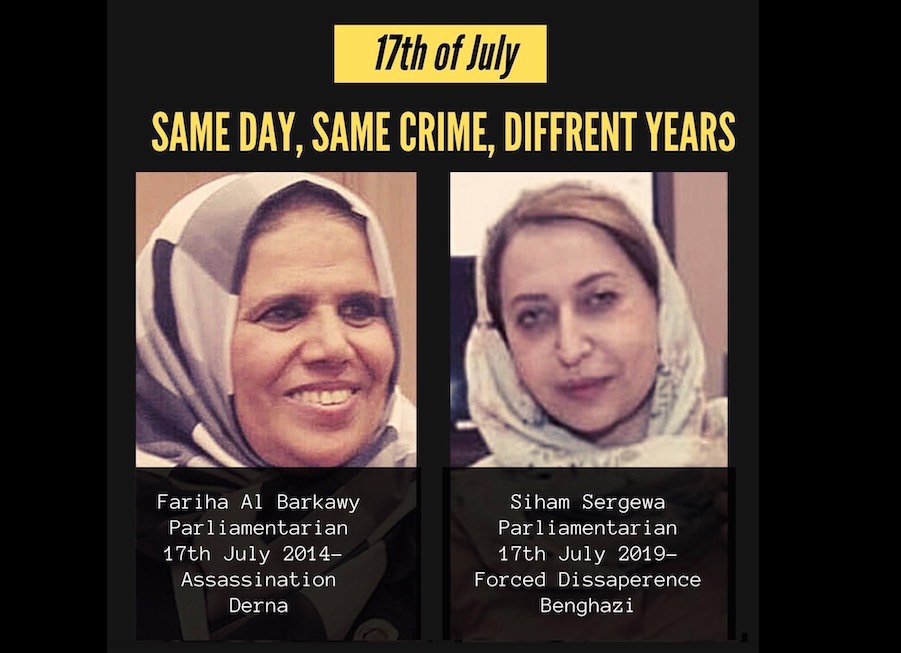 Today marks four years since the forcible disappearance of Siham Sergewa, a member of Libya's House of Representatives, in Benghazi on July 17th, 2019. There has been no investigation yet by the Libyan authorities on her forcible disappearance amid serious concerns for and leaks of her assassination.
Ms. Sergewa's forcible disappearance came on the day marking the fifth year since the assassination of another woman parliamentarian, member of the first parliament (GNC), Fariha al-Berkawi in Derna on July 17th, 2014.
As we today remember these two brave women parliamentarians who were assassinated for their advocacy to end the war and for a peaceful transfer of power, The Libyan Women's Platform for Peace (LWPP) condemns normalizing the silencing of women's voices in Libya.
The failure to properly investigate and prosecute the assassinations of women like Fariha al-Berkawi, Salwa Bugaighis and others has led to the rise of a culture of impunity in Libya, in which attacks on prominent women and women human rights defenders have become normalized. The UN mission to Libya issued a statement on the disappearance of Siham Sergewa, stressing that "silencing the voices of women in decision-making positions will not be tolerated." These words ring hollow. Without concerted action to hold the murderers of women politicians and human rights defenders accountable, the world has shown it will tolerate "silencing the voices of women in decision-making positions."
On November 10th, 2020, a group of unknown armed men shot al-Barassi in Benghazi city center in broad daylight. Al-Barassi was known for her political engagement and criticism of the human rights abuses and abuses and corruption allegedly committed by authorities in Eastern Libya and their affiliated militias. Al-Barassi's killing took place as the Libyan Political Dialogue Forum (LPDF) was holding its first round in Tunisia aimed at ending the conflict and preparing for national elections, underscoring the importance of ensuring accountability and justice in the country. There can be no meaningful democratic transition in Libya until the basic security and human rights of the population are guaranteed.
The Libyan Women Platform for Peace (LWPP) condemns all actions and inactions that lead to normalizing the silencing of women's voices in Libya. LWPP calls upon the Libyan authorities to investigate the extrajudicial killing and forced disappearance of women politicians and hold the perpetrators accountable. LWPP also calls upon the international community to take action to end Libya's deadly culture of impunity before it claims more victims.
LWPP's "Keys to Peace" Comprehensive Approach
As Libya gears up for potential elections, and to ensure free, fair and inclusive elections, LWPP advocates for it's "keys to peace" comprehensive approach encompassing preventive, protection and accountability measures along with participation measures to ensure women's full and meaningful political participation.
1. Participation : The electoral legislations should ensure 30% at least representation of women and the participation and representation of IDPs and cultural minorities. Ensuring that Libyan authorities urgently issue regulations that accord with Libya's obligation to protect freedoms of speech and assembly and association pursuant to the Roadmap established by the LPDF.
2. Accountability: Holding spoilers accountable. Imposing sanctions on spoilers of the political process who obstruct the electoral process pursuant to Security Council Resolution 2570.
3. Protection: Monitoring the elections by representatives of regional and international organizations such as the EU and the Afrcan Union is crucial in ensuring that the elections are credible and transparent. Ensuring that civil society groups are enabled to take part in monitoring the elections.
4. Prevention: Holding a National Reconciliation Forum . The National Reconciliation Forum should bring together key social and political stakeholders. This should be meshed with formulating a national charter which will secure the buy-in of all the stakeholders and accepting the outcome of the elections.